"No One Fights Alone" rallies for Rose Hill students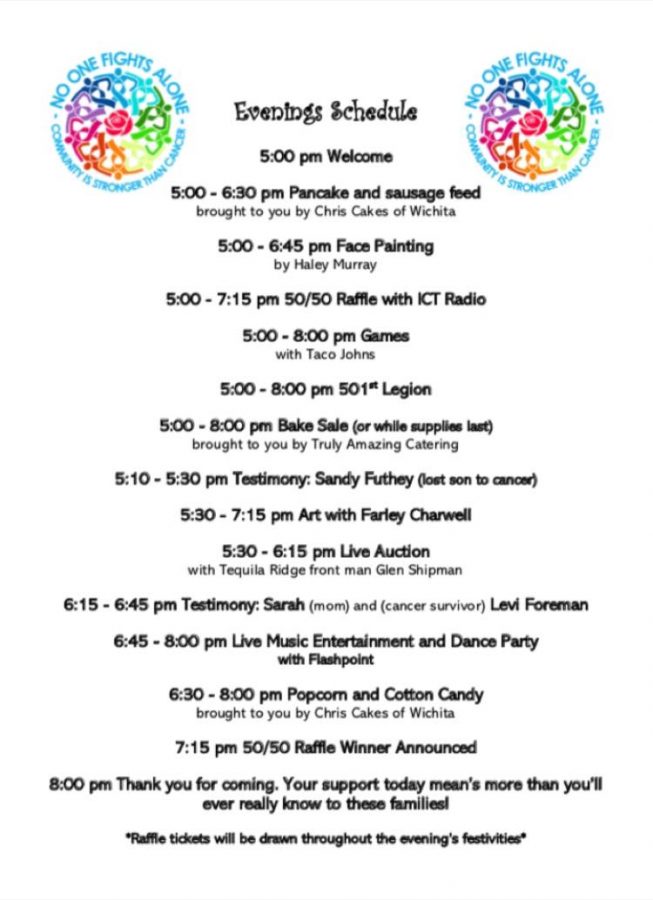 Gracie Russell, Staff Writer, The Rocket Press
March 4, 2019
Citizens of Rose Hill  will conducting a fundraiser for two students fighting cancer in the Rose Hill School District, Caitlyn Stuart at the high school and Brandon Fleming at the middle school.
The fundraiser is called "No One Fights Alone" stating that Caitlyn and Brandon will never be alone through this fight with cancer.
This event will be on Saturday March 9, 2019 in the multi-purpose room of the middle school from 5 to 8pm.
This fundraiser is hosted by Gerald Amato Agency and fueled by Spaghetti Productions, LLC and 100 percent of the money donated for Stuart and Fleming will be split between the two of them.
It is suggested that the minimum donation is five dollars for the pancake feed. At the pancake feed there will be water, tang, and coffee available for drinks.
The live music will be provided by local band Flashpoint and the live auction begins at 5:30, ending at 6:30. The raffle will be going on the entire evening.
Please see the attached photos for more details on "No One Fights Alone."
"When I think of this fundraiser, I think of the old African proverb, 'It takes a village to raise a child,' comes to mind," said Andrea Deshaine, who works for Fueled by Spaghetti Productions. "African Villages have been known to be very tight in helping and supporting their communities. Our community has the elements to be that kind of 'village,' if we all pitch in and help our neighbors when we see they are in need."