Middle School names principal for next school year
Assistant Principal Jeff Sells to take over for Kay Walker, who is retiring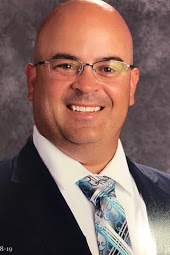 Charlee Conroy, Assistant Editor
February 12, 2020
Rose Hill Middle School's principal, Kay Walker, made the announcement that she will be retiring at the end of the year. She has been the principal at the middle school for 12 years and previously was a second grade teacher at Rose Hill for eight years. 
Jeff Sells, who is currently the Assistant Principal and Athletic Director for the middle school, will be taking over the role of principal next year. 
Sells has only been at Rose Hill Middle School for one year, but was a teacher and coach for 13 years in the Valley Center School District. 
"I am extremely excited for the opportunity to become the next principal of the middle school," Sells said.  "I appreciate Mr. Chickadonz and the BOE for their confidence in me to do the job. I do have some huge shoes to fill.  Mrs. Walker has done a wonderful job leading this building.  She has been, and continues to be a great mentor for me as well. I look forward to continuing the great things happening here at the middle school and will continue to find ways to enhance our students' learning experiences."