Leck brings home state title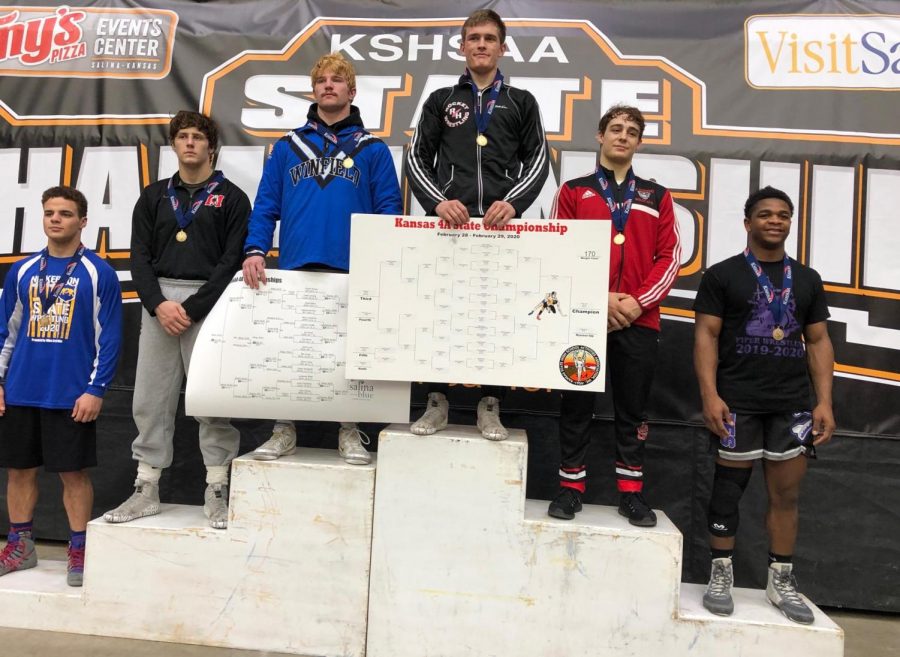 Ethan Woodrome, Staff Writer
March 2, 2020
On Saturday, February 29 Rose Hill High School senior wrestler David Leck won the state wrestling tournament in the 170 pound weight class at the Class 4A tournament in Salina. 
Zac Sparr in 2010 was the last Rocket wrestler to win a state championship.
Leck, who finished 37-1, was ranked second in his weight class prior to state while his opponent Steele Morin was ranked third. Morin defeated Leck earlier this season with a one-point decision.
In his opening match, Leck won by fall over Ben Timple of Paola. In the quarterfinals Leck won by fall over Caleb Vandergrift of Scott Community and then defeated Jarin Gomez of Nickerson (ranked fifth) in the semifinals.
"I feel great that I finally accomplished my goal that I had for years and put so much work into it," Leck said.  "I am really happy and grateful for everyone that helped me get here. I'm thankful for all my coaches, family, and teammates that helped me get here."
Head coach Darian Eshelman was concerned that Morin was Leck's opponent in the finals.
"It's quite a rivalry and to be honest I really didn't want him (Morin) making the finals," Eshelman said "Because we've wrestled him so many times so I was kind of wanting him to get someone new to wrestle. Going into the match, we felt that even though our opponent was very strong and explosive we felt like David is simply the better wrestler."
Like all athletes going into the match Leck was nervous but is able to focus on what he needs to do. 
"I knew the way he wrestled and I knew everything that he was going to do in the match and was going to stop him from finishing he moves which is what he does best" Leck said. 
The championship match went all three rounds and neither wrestler ever had much momentum. Leck won by decision over Morin 3-1.
"It is an amazing feeling especially since it happened to David because he's such an awesome guy," Eshelman said. "He works so hard, sacrifices so much and has put a lot of time into it the past few years."